A Profile: 1913-1997
---
1707 New Hampshire Blvd Washington, D.C. 20026
Introduction
Delta Sigma Theta Sorority was founded January 13, 1913 by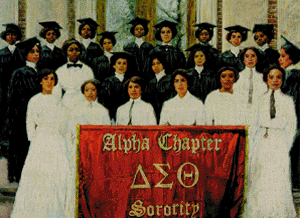 twenty-two ambitious, sincere, and visionary young women students at Howard University in Washington, D.C.

Delta Sigma Theta Sorority, Incorporated is a private, non-profit organization, which was founded on Christian principles. Its purpose is to provide services and programs to promote human welfare. In 1930, Delta Sigma Theta was incorporated. The record of incorporation is filed in the Congressional Library in Washington, D.C. The high ideals and principles of our founders have become an integral part of the lives of more than more than 200,000 predominantly Black, college-trained women, the sorority currently has over 850 chapters in the United States and chapters inLiberia, WestGermany, Japan, the Caribbean, the Virgin Islands, The Republic of Haiti, Bermuda, Nassau Bahamas, and the Republic of Korea. Delta also has a chapter at Galludet University in Washington, D.C., where its members are hearing impaired.

At the inception of Delta Sigma Theta at Howard University, the founders envisioned an organization of college women pledged to serious endeavors and community service. These youthful students demonstrated a vital concern for social welfare, academic excellence, and cultural enrichment, deemphasizing the social side of sorority life. Inspired by concern for social welfare, academic excellence, and cultural enrichment, our founders committed themselves to social consciousness and public service. This heartfelt desire to serve mankind has helped to de-emphasize social aspects as they relate to sorority life. During the 1910s, Delta fought for voting rights by participating in suffrage marches. The Sorority attacked illiteracy in the 1930s by establishing library projects. In the 1940s, Delta fought for the desegregation of troops in World War II. The organization expressed its concern for international issues by sponsoring a maternity ward in Kenya in the 1960s.

Their ideas of scholarship and service have withstood the test of time, and today Delta Sigma Theta is a public service organization dedicated to a program of sharing, membership skills and organizational services in the public interest. Celebrating 84+ years of excellence, we are very proud that these goals have withstood the test of time. It is under these directives that Delta has been able to lead the strides for civil rights, promote higher standards of scholarship and make other lasting impacts on society. Delta Sigma Theta, based on sisterhood and community service, represents a rich African American tradition of promoting personal excellence and social progress. The major programmatic focuses of the sorority are centered around the organization's,
Five Point Program Thrusts:
1.Educational Development
2.Economic Development
3.Physical and Mental Health
4.Political Awareness and Involvement
5.International Awareness and Involvement



From the very beginning, Deltas worked on local, regional, and national levels to help serve mankind while promoting high scholarship and leadership among their members. In the 1920' and '30's, Deltas manned soup kitchens, served as hospital volunteers, worked to counteract " Jim Crow" laws, and established scholarships.
Membership in Delta is attained by undergraduate students at colleges and universities, graduate students, alumnae members ( those who have attended college), and honorary members. Honorary members are selected to join Delta's fine traditio n of sisterhood and service based on national and /or international recognition received as a result of their commitment to improving the quality of life for mankind. These honorary members have the same qualities and aspirations of other members of the sorority. Some honorary members include

Daisy Bates, Mary McLeod Bethune, Shirley Caesar, Ruby Dee, Aretha Franklin, Nikki Giovanni, Lena Horne, Nomzamo Winnie Mandela, Wilma Rudolph, Barbara Jordan, Dorothy Height, Carol Moseley-Braun, Nancy Wilson, Camille Cosby, and Mary Church Terrell.

A majority of the Delta me mbers are employed in education as teachers and school administrators. Other areas of occupation that are frequently held members include management, social sciences, social work, medicine/health, law, engineering, performing arts, religion, politics, an d journalism.
The members of Delta Sigma Theta work diligently to provide services according to the five-point program. Activities in these areas involve Delta members as volunteers in direct services, catalysts for community action, recruiters of interag ency support for issues (public and private), leaders in networking and coalition building with other organizations, and sources and resources for the securing and dissemination of information.

---
NATIONAL AND INTERNATIONAL PROGRAMS
---
1. Educational Development
Delta Research and Educational Foundation (DREF)


Delta Sigma Theta Sorority, Inc. established the Delta Research and Educational Foundation (DREF), as a 501(c)(3) non-profit corporation. Delta Research and Educational Foundation was established in the 1980's to develop research and support programs for family welfare, educational development and an increase in international awareness, particularly in relation to African and Caribbean countries. DREF is a non-profit corporation that serves Delta Sigma Theta Sorority and other similar public service organizations.
.

School America


In 1990, Delta Sigma Theta Sorority was "Taking the Lead Helping Families to Read" by conducting a nation-wide initiative-School America-which was a national family reading program. The basic focus of School America was to have one story read to a child, between the ages of one through ten, every week throughout the year. A major component of this national reading program was the Reader Registration which asked for registering persons to pledge to read one story a week to a child in his/her family or community. Other national organizations as well as regional and local groups joined Delta as partners to implement this program.



The Distinguished Professor Endowed Chair


The Distinguished Professor Endowed Chair is another example of a National Program that indicates Delta's deep commitment to education. With this program, endowments are given to Black Colleges/Universities through a grant for a professor of distinction for a two-year period. Tuskegee University, Clark College, Hampton University, Spelman College, and St. Augustine University are among some of the recipients of the award.


---
2. Economic Development
Summit II: A Call to Action in Support of Black Single Mothers


As an initiative in advocacy for single mothers, Delta Sigma Theta Sorority, Inc., convened "Summit II: A Call to Action in Support of Black Single Mothers" in more than forty communities across the nation May and June of 1984. In cooperati on with women's organizations, foundations, and concerned corporations as well as labor, religious, political, governmental, educational groups, the Summit II conferences sought to implement the national programs to help the estimated two million Black si ngles mothers in the United States at the time.



Summit III: A Call to Action in Support of the Black Male


Summit III was convened to draw attention to the plight of the Black male. Delta Sigma Theta brings a profound interest in and commitment to the preservation, protection, nurturing and education of young Black men. Goals of Summit III were t o develop and implement programs which focus on education, housing, employment, and personal development for boys, ranging from 10-16 years old.



Delta Habitat for Humanity Project


In 1992, the sorority became affiliated with Habitat for Humanity International, an ecumenical, Christian housing ministry that seeks to eliminate poverty housing from the world and to make decent shelter a matter of conscience and action. Through volunteer labor, management expertise and donations of money and materials, Habitat buildt and rehabilitated homes. Delta Sigma Theta is the first national African-American organization to collaborate with Habitat. Delta's Habitat for Humanity Program will involve building or rehabilitating one house in each of the Sorority's seven regions. During the 1993-94 DST fisca l year, the Sorority had built or rehabilitated 15 houses in the East St. Louis, IL and St. Louis, MO area, site of the 1994 National Convention.

Project Cherish a national preservation and beautification program of African-American landmarks, monuments and historic sites, was created in 1992. Delta chapters implementing Project Cherisherect landmarks, plaques statues and etc. to indicate contributions made by Black people.

---
3. Physical and Mental Health
Health Fairs and Seminars


Delta has launched three health education programs:
1. The Delta Alcohol, Drug Abuse and AIDS Community Education Project (Delta ADACE).
2. The Delta Immunization Project.
3. The Seniors Medication and Record Tracking Project (Project SMART).

Delta has sponsored a national symposium on hypertension among Black women and youth. The sorority has also sponsored a hypertension maintenance demonstration project conducted by national staff and seven undergraduate chapters in the Washing ton, D.C., Metropolitan area. More than two hundred chapters hold health fairs and comprehensive screening programs on an annual basis in their local communities. The organization has targeted cancer among Blacks as a primary health concern and has conc erted effort to conduct a series of projects, preventive in nature, to address this serious problem. Several health issues continue to be addressed, and they include kidney disease, stress, hypertension, and suicide. Delta is working closely with the Na tional Cancer Institute on a cancer prevention awareness project.



Summit IV: A Global Response to the Pandemic of AIDS and other Health Issues


The purpose of Summit IV was to increase and heighten the awareness and level of concern regarding the spread of HIV/AIDS infection in women, teens, and others and to promote healthy lifestyles through education and prevention of those at-ris k behaviors contributing to the acquiring and spread of HIV/AIDS. Another goal of the summit was to form coalitions/ networks to initiate and develop techniques to be used at local, state, and national levels to reduce the startling increase of HIV/ AIDS cases.

---
4.Political Awareness and Involvement
National Voters Registration Drives


Delta also has a deep commitment to improving the political status of Black people in this country. During the 1950's Delta launched a nation-wide voters registration drive in which thousands of Blacks registered to vote. Many Deltas have be en very instrumental in paving the way for Black women to be involved in politics. Patricia Roberts Harris was the first Black woman ambassador to a foreign country and the first Black woman to be a presidential cabinet member. Soror Shirley Chisholm w as the first Black woman elected to the United States Congress and the first Black woman to make a serious bid for the presidency. Sorors such as Mary McLeod Bethune, Mary Church Terrell, and Barbara Jordan were all political activists who sought to impr ove the economic, social and educational status of Black people in this country.



Social Action Commission


During the 1960's, Deltas established the Social Action Commission which provided support for the Civil Rights Bill with a massive letter-writing campaign. The commission monitors legislation at the federal, state, and local levels. Such iss ues as voter registration, legislation affecting education, health, employment, child-care, and international affairs are priority issues.


---
5. International Awareness and Involvement
African Diaspora


Delta established a four-year (1984-1988) Awareness-Travel-Study Program on the African Diaspora-the dispersal of the people of Africa to several continents and island countries and the effect of the implementing of the African cultur e in the new areas. The program sought to close the gap between the research and findings of academicians and writers and dissemination of the same to the community at large. Another facet is the awareness of social, cultural, family, and frien dship relations between Black people in the United States and Black people from other lands.



Thika Memorial Hospital in Nairobi, Kenya


An example of long standing interest in international programs is the maternity wing at Thika Memorial Hospital in Nairobi, Kenya which Delta has built and maintained since 1964. The hospital became Kenya's first hospital opened since its ind ependence. Today, maternal deaths rarely occur and infant mortality is very low. The hospital is also used for the training of practical nurses and midwives.

This profile is only a brief summary of the deep commitment that the members of Delta Sigma Theta Sorority, Inc., have toward working for the good of all mankind. The success of the programs depend upon the continuous interaction of each membe r locally and nationally. For more than eight decades, this has been a hallmark of Delta Sigma Theta Sorority, Inc., and the fountainhead of its success.


---
For an in depth history of Delta Sigma Theta you may read:
In Search of Sisterhood: DELTA SIGMA THETA and the Challenge of the Black Sorority
Movement by Paula Giddings, 1988, William Morrow and Co., Inc.
Shaped To Its Purpose: DELTA SIGMA THETA the first fifty years by Mary Elizabeth Vroman, 1965; re-issue 1993, Random House.
---
SOURCES: Ebony Magazine ( February 1990)
In Search of Sisterhood by Paula Giddings
Delta Sigma Theta Sorority, Inc., Profile 1913-1996

Delta Sigma Theta Sorority, Inc. Gamma Nu Chapter


Return to homepage.