Ruby Dee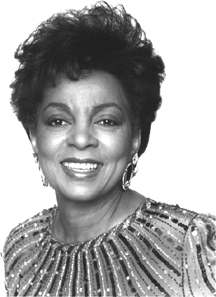 Ruby Dee was awarded an Emmy for her role in "Decoration Day," a Hallmark Hall of Fame presentation and is probably best known for her roles in "The Court Martial of Jackie Robinson," "Zora Is My Name" at the American Playhouse, and Spike Lee's "Do The Right Thing" and "Jungle Fever." Some of her favorite roles have been Lutiebelle in "Purlie Victorious" (stage and film) written by her husband Ossie Davis; Lena in Athol Fugard's "Boesman and Lena," for which she received an Obie; as Julia in Alice Childress' "Wedding Band" for the N.Y. Shakespeare Festival, as Mary Tyrone in the television production of "Long Day's Journey into Night", and Ruth in "A Raisin in the Sun."
In 1988, Ms. Dee was inducted into the Theater Hall of Fame and in 1989, into the NAACP Image Award Hall of Fame.
Through their company, Emmalyn Enterprises, Ruby Dee and Ossie Davis produced with PBS-"Martin Luther King: The Dream and The Drum," "A Walk Through the 20th Century" with Bill Moyers, and three seasons of the critically acclaimed series, "With Ossie and Ruby." They have also co-produced the film, "Countdown at Kusini," in Nigeria and, for CBS, "Today Is Ours," a program based on Ms. Dee's book, Glowchild (Third Press, N.Y.), a compilation of poetry for and by young people.
Ms. Dee has also written My One Good Nerve , a compilation of short stories, humor and poetry (Third World Press) and has adapted two African folktales into books for children (Henry Holt & Co.): Two Ways to Count to Ten , which won the Literary Guild Award in 1989, and Tower to Heaven, 1991.