---
Barbara Jordan
---
1936-1996
---
"What the people want is very simple. They want an America as good as its promise."

---

"We want to be in control of our lives. Whether we are jungle fighters, craftsmen, company men, gamesmen, we want to be in control. And when the government erodes that control, we are not comfortable."
---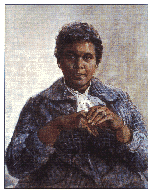 I only saw Barbara Jordan once and that was at a function at the University of Houston about six or seven years ago. I happened to be near the entrance of the building as Ms. Jordan rolled through the doors in her wheelchair. She gunned it right up to a waiting group of dignitaries, and then she greeted them and began outlining her plans for the morning. Her voice was loud and resonated throught the entry hall, and she was surely the dominant figure in the room, just by being there.

Barbara Jordan was the first Black to succeed in Texas politics following the Reconstruction years, she was a woman who refused to take the submissive role that the culture encouraged, and she seemed to take her physical problems as just another challenge Her influence in Texas and the Nation have been and will continue to be an inspiration.

Here are some links to material that is available on the Internet related to Barbara Jordan and her work.
---
A Barbara Jordan Chronology from Liberty Net
A few Barbara Jordan Quotations
Barbara Charline Jordan A brief biography from the Good Hope Missionary Baptist Church Memorial Service Program.
A Tribute to Barbara Jordan From Elf Systems Corporation. Her keynote speech at the Democratic Convention and her address to the Judiciary Committee considering impeachment of then President Richard Nixon. Essays on Barbara Jordan by Students, Teachers, and Texans
TSU remembers Barbara Jordan Memorial service pays tribute to its most famous graduate. By ARMANDO VILLAFRANCA. Monday, January 22, 1996 Houston Chronicle
Praise And Prayer Friends say farewell to Barbara Jordan By MIKE TOLSON (The Houston Chronicle's Sunday Edition -- January 21, 1996.) Contains links to several other stories.
Jordan mourners gather at church Lori Rodriquez. Houston Chronicle (January 28, 1996)
Massive Crowd Gather at Church by Lydia Lum. Houston Chronicle, January 20, 1996
President will speak at funeral By Jo Ann Zuñiga and Nancy Mathis. Houston Chronicle (January 19, 1996)
Mourners recall woman who made difference By Allan Turner. Houston Chronicle article (january 19, 1996)
Barbara Jordan lived as a Pioneer and Prophet by Cragg Hines. The Houston Chroncile's lead story following Barbara Jordan's death. Also contains links to editorials and other stories from the Chronicle. (January 18, 1996)
San Antonio Express-News Comments Page BARBARA JORDAN (2:45) [mpeg] 25 Megabytes. Not for low bandwidth! Colleagues hail the late Barbara Jordan as a patriot, trailblazer and hero. This movie clip is from the CNN News report that aired on January 18.
---
January 22, 1996
This page was originally written at url=http://www.rice.edu/armadillo/Texas/jordan.html>
---