by Scott Jackson, Philadelphia, Pennsylvania
If a person's effect on others could be measured by a score or a rating, Wilma Rudolph would win the contest and top the charts. Born in 1940 in Clarksville, Tennessee, Wilma did not have an easy childhood. Wilma Rudolph was the 20th of 22 children born to Ed and Blanche Rudolph. As a child she was sickly. She contracted pneumonia, scarlet fever, and polio. She did not walk until she was eleven years old because she had a leg crippled by polio.
Soon after she began walking, she began running and playing basketball. When Wilma was 16, just five years after she began walking, she traveled to Melbourne, Australia for the Olympic Games. In Melbourne, Rudolph ran a leg of the four by 100 meter relay. The United States placed third.
Wilma set her sights on the 1960 Rome Olympic Games, but there was a setback: she became ill in 1958 and missed the entire season. Fortunately for Wilma, the great coach of Tennessee State University, Ed Temple, had seen her run track as a high school sophomore. He persuaded Wilma to go to Tennessee State. She joined the track team nicknamed the Tigerbelles.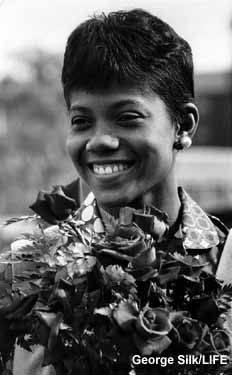 (Tigers on the track and southern belles off it.) Rudolph won seven national titles in four seasons of running, but she will be best remembered for her Olympic accomplishments in 1960. Wilma Rudolph won gold medals in the 100 meters and 200 meters, and was the final runner on the four by 100 meter relay team. With her victories, Wilma became the first American woman to win three gold medals at one Olympic celebration.
For her accomplishments Rudolph won the James E. Sullivan Award. It is the highest award for an amateur athlete in the United States. She was the first African-American woman to capture the Sullivan Award.
After her career ended in 1962, Wilma was elected to a number of Halls of Fame, including the Black Sports Hall of Fame in 1973, the U.S. Track and Field Hall of Fame in 1974, and the U.S. Olympic Hall of Fame in 1983. In 1993, Rudolph received the first National Sports Award. And more important than all the medals and awards were Wilma's four children, her greatest pride and joy.
Sadly, Wilma Rudolph had one thing she could not beat, brain cancer. Brain cancer took Wilma Rudolph from us on November 12, 1994. She was 54. Her casket was draped in the Olympic flag.
Her former teammate Willye White said, "If anyone should go to heaven for taking care of their family, it's her." Her coach Ed Temple, whose athletes won 26 medals in the Olympics, called her "One of a kind." Wilma was one of a kind and another great role model.